Treachery in Tuscany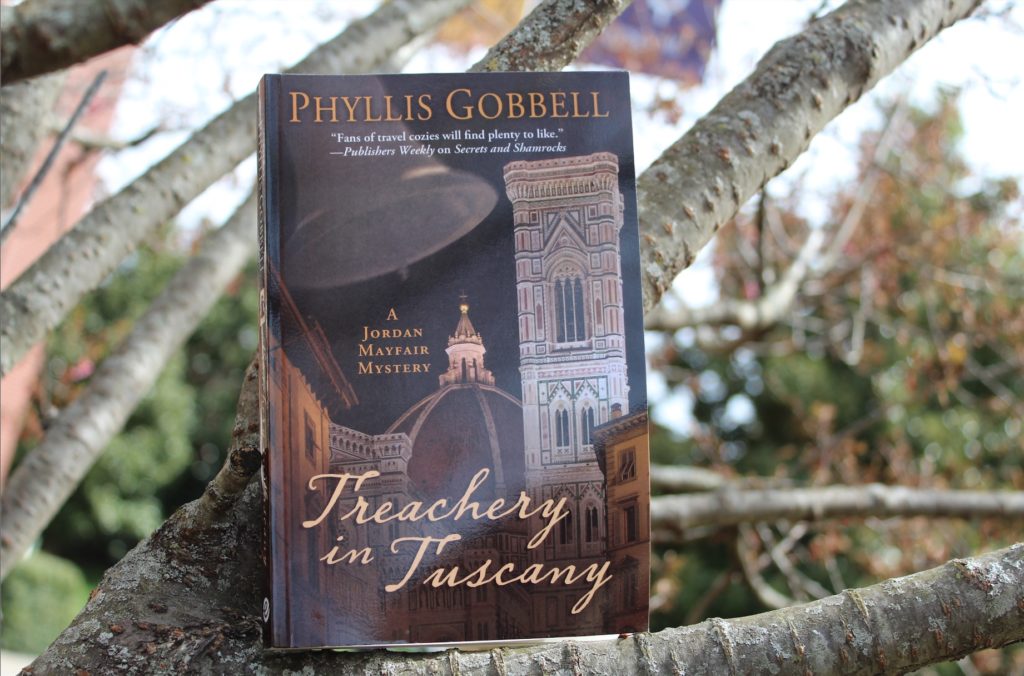 Church bells chime in an ancient bell tower as architect Jordan Mayfair, from Savannah, Georgia, and her travel-writer uncle, Alexander Carlyle, arrive at Convento di Santa Francesca Firenze in Florence, Italy. Jordan expects the 15th century convent with its exquisite gardens to offer a safe and serene retreat from the crowded, bustling, touristy district of Europe's premier Renaissance city, and anticipates a romantic interlude with Paul Broussard, charming patron of the arts, who is flying in from Paris, just for her.
But the polizia municipale are on site, investigating a burglary by jewel thieves, and a mugging has occurred outside the convent walls. Several guests of the convent are not who they seem to be, and one is soon dead. A suicide, the police say. Jordan suspects murder.
Her attempt to find justice for the victim leads her to discoveries as dark as the labyrinths of the convent that she explores with an architect's eye, and as far-reaching as the spectacular Tuscan hills. But Jordan's findings give little comfort as she uncovers the truth about Paul's unstable daughter, Bella, who has come to Florence with evil intentions. In the third book of the Jordan Mayfair Mystery Series, treachery threatens Jordan's relationship with Paul, tears a prominent family apart, and takes an innocent life.
Available on Amazon and Barnes and Noble, or at Parnassus Bookstore.
Secrets and Shamrocks
Excerpt from Secrets and Shamrocks:
"Tell us the rest of the story, Ian," Alex urged.
He began, and as before, his voice took on the lilt of a storyteller. "The story goes that one day some of Cromwell's men intercepted the priest as he was leaving after he'd said the mass, and they went back and dragged the man from his cottage because he'd been hiding the priest. The daughter rushed after her father, screaming and crying. One of the soldiers raised his weapon and shot her. She fell, clutching her breast, and there she died, under an alder tree. Legend has it a patch of shamrock plants sprang up from the ground where her blood soaked into the earth."
It was a long moment before Alex spoke. "A powerful story."
And then a shot rang out.
"Holy Mother. I think I've been shot," Ian said.
Available on Amazon and Barnes and Noble.
Pursuit in Provence
A 1956 master tape of an Elvis Presley recording never released becomes the object of a chase through the French countryside. A small-time crook and a ruthless collector want it. A shady promoter in the music business wants it. A cowboy wants it. And they're following Jordan Mayfair.
Excerpt from Pursuit in Provence:
I saw the steps to the tower in front of me and went up, up the curved, narrow set of steps that came out onto a view of the city. My heart was trying to leap out of my chest. Nowhere to go from here. What had I been thinking, heading up? It was the only staircase I'd seen. The view of the city was magnificent, so peaceful. What an incredibly peaceful place up here with the wind whipping, so high above the city that the street noise didn't reach you.
And then he was there, as I knew he would be. He stepped up, breathing hard, too. He pointed his gun at me and took a step closer. I backed against a rail that felt insubstantial. Another step, and he touched the point of the gun to the soft hollow in my throat. With a horribly grotesque smile, the man who had pursued me and finally caught me said, "Would you like to fly?"
Available on Amazon and Barnes and Noble.